Welcome to The Greater Wilshire Neighborhood Council website. Your interest shows a commitment to your neighborhood and your city.
All meetings are open to the public and their times and locations are published on this page under Meeting Schedules. If you have an item you would like placed on a meeting agenda, please contact info@greaterwilshire.org or (424) 901-1409, at least two weeks before the meeting. Meeting agendas are posted on this site and around the Greater Wilshire community at least 72 business hours before our meetings.
Owen Smith, President
2016 Neighborhood Council Elections
Have a voice in your local government.
Vote on Election Day!

Date: May 1, 2016
Time: 12pm – 4pm

Location: The Barking Lot
366 North Larchmont Ave
Los Angeles, 90004
Visit our 2016 Election page for complete information on voter qualifications and document requirements.
View a list of all certified candidates for the 15 Geographic Area and 6 Special Interest Representatives.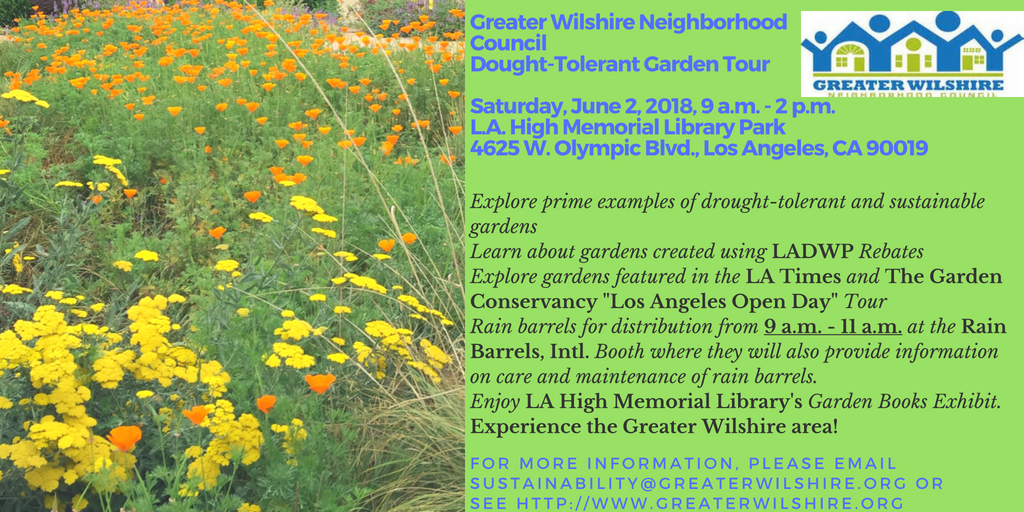 The Greater Wilshire Neighborhood Council will host its second Drought-Tolerant Garden Tour on Saturday!
Saturday, June 2, 2018
9 a.m. – 2 p.m.
Meeting point: L.A. High Library Memorial Park, 4625 W. Olympic Blvd., Los Angeles, CA 90005. [map]
Garden Tour attendees may procure maps of the gardens at the meeting point. This will be a self-guided and free tour.
The Second Drought-Tolerant Garden Tour will showcase gardens in the following Greater Wilshire neighborhoods: Brookside, Fremont Place, Sycamore Square, and Wilshire Park. Although the tour will focus on neighborhoods on the south side of the Greater Wilshire area, the tour will also feature a magnificent Hancock Park garden recently featured in the LA Times. Another tour highlight will be the front and rear garden of a Fremont Place home recently featured in the 2018 The Garden Conservancy "Los Angeles Open Day" tour. All gardens were nominated by Greater Wilshire resident. The review and selection of garden nominations was made the GWNC Sustainability Committee members.
At the Garden Tour's meeting point, Rain Barrels Intl. will be distributing rain barrels for sale, which are eligible for City of Los Angeles Rain Barrel Rebates, and offering information on rain barrel care and maintenance from 9 a.m. – 11 a.m. Last, LA High Memorial Library will feature an exhibit on garden books to compliment the tour.
For more information on this event, please contact Julie Stromberg, Chair, GWNC Sustainability Committee, at sustainability@greaterwilshire.org.