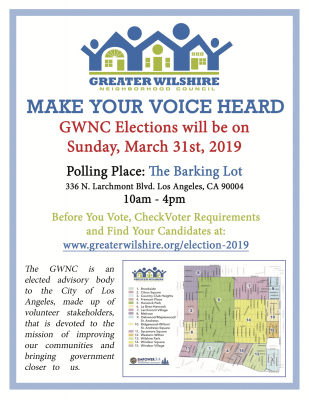 The Greater Wilshire Neighborhood Council is a non-partisan entity mandated by the City of Los Angeles. Our purpose is to advise on issues of concern to our neighborhood and on City governance.
We will elect 21 board members and alternates to serve 2-year terms: 15 by geographic region (see map below) and 6 special interest categories (representing Renters, Business, Education, Religion, Other Non-Profit groups, and At-Large). Those who live, work, own property or fit into one of our six special interest categories in the GWNC area, and who are 18 years old by election day, are eligible to run and vote. If you are interested in becoming a candidate, please visit https://clerk.lacity.org/elections/neighborhood-council-elections or call (213) 978-0444.
Election Information Dates:
Candidate Filing Start Date: 12/16/2018
Candidate Filing End Date: 01/15/2019
Deadline to Submit Documentation: 5:00 p.m. 01/18/2019
ELECTION DAY – Sunday, March 31st, 2019
Information:
For more information, please email clerk.electionsnc@lacity.org or call the City Clerk's office at (213) 978-0444.