Welcome to The Greater Wilshire Neighborhood Council website. Your interest shows a commitment to your neighborhood and your city.
All meetings are open to the public and their times and locations are published on this page under Meeting Schedules. If you have an item you would like placed on a meeting agenda, please contact info@greaterwilshire.org or (424) 901-1409, at least two weeks before the meeting. Meeting agendas are posted on this site and around the Greater Wilshire community at least 72 business hours before our meetings.
Owen Smith, President
2016 Neighborhood Council Elections
Have a voice in your local government.
Vote on Election Day!

Date: May 1, 2016
Time: 12pm – 4pm

Location: The Barking Lot
366 North Larchmont Ave
Los Angeles, 90004
Visit our 2016 Election page for complete information on voter qualifications and document requirements.
View a list of all certified candidates for the 15 Geographic Area and 6 Special Interest Representatives.
Monday, April 5th, 6:30 p.m. – Virtual Town Hall – No registration required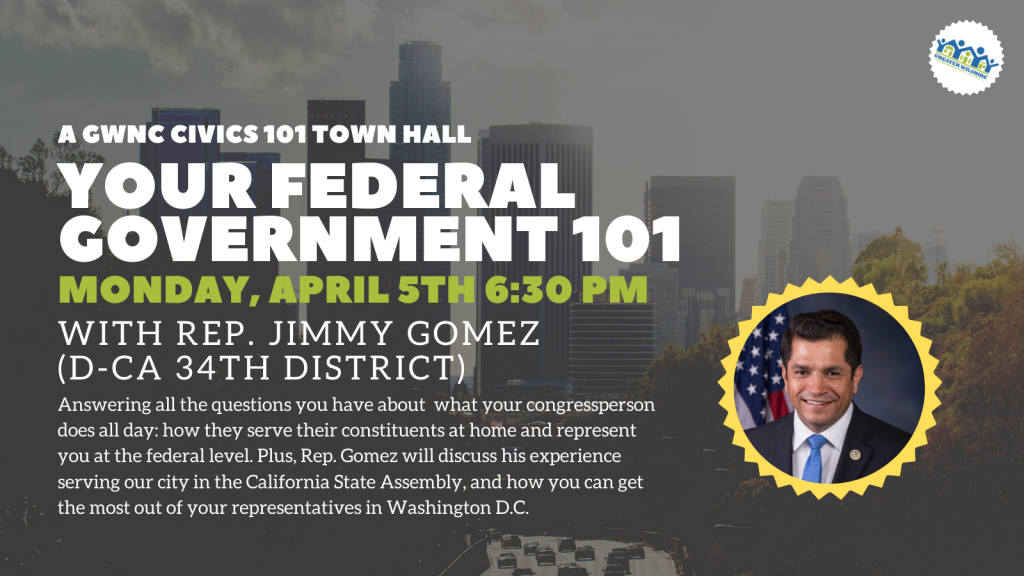 Join by Zoom: https://us02web.zoom.us/j/82607693605.
Dial in: (669) 900-6833 (San Jose) or (877) 853-5257 (Toll Free) | Meeting ID 826 0769 3605
Join the Greater Wilshire Community in welcoming US Representative Jimmy Gomez (D-CA 34th District) who will answer your questions about what your congressperson does all day: how they serve their constituents at home and represent you at the federal level. Plus, Rep. Gomez will discuss his experience serving our city in the California State Assembly, and how you can get the most out of your representatives in Washington, D.C.