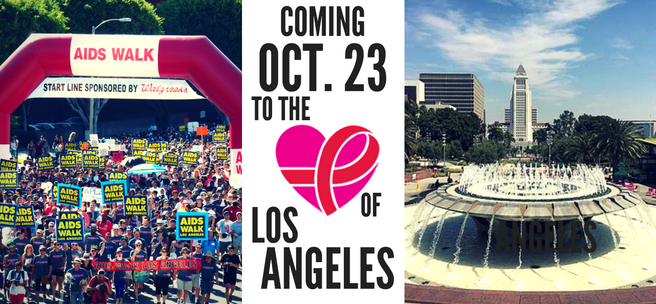 The Greater Wilshire Neighborhood Council is participating in this year's AIDS Walk Los Angeles, a 10K fundraising walk to fight the epidemic.
Please join us or donate today! Visit the GWNC Team page:
Oct. 12, 2016 at noon is the last chance to qualify for a team "spot in the park." Register today!
Every dollar we raise helps APLA Health stop new infections and support people living with HIV/AIDS.
Where: Coming this fall to Grand Park in Downtown Los Angeles!
When: Sunday, October 23
8:30 a.m. Sign-In
9:15 a.m. Opening Ceremony
10 a.m. AIDS Walk Los Angeles Begins!
What: AIDS Walk Los Angeles is a 10-kilometer (6.2-mile) fundraising walk to fight HIV/AIDS, and usually takes about 2.5 hours to complete. Register today to join us for an inspiring and memorable day!
Who: Celebrity guests, musical artists, elected officials, AIDS activists, and thousands of caring people like you.
About AIDS Walk Los Angeles
In its 31 years, AIDS Walk Los Angeles has drawn hundreds of thousands of supporters to walk, and millions more to donate, raising more than $82 million to combat HIV and AIDS. The funds raised at the event remain a vital lifeline that sustains APLA Health's prevention, care, and advocacy programs for the thousands of men, women, and families affected by the disease in Los Angeles County. Proceeds also benefit more than 20 other HIV/AIDS service organizations that are able to participate and raise funds through the Community Coalition Initiative (CCI).
Visit APLA Health online to learn more about the life-changing programs and services it provides.