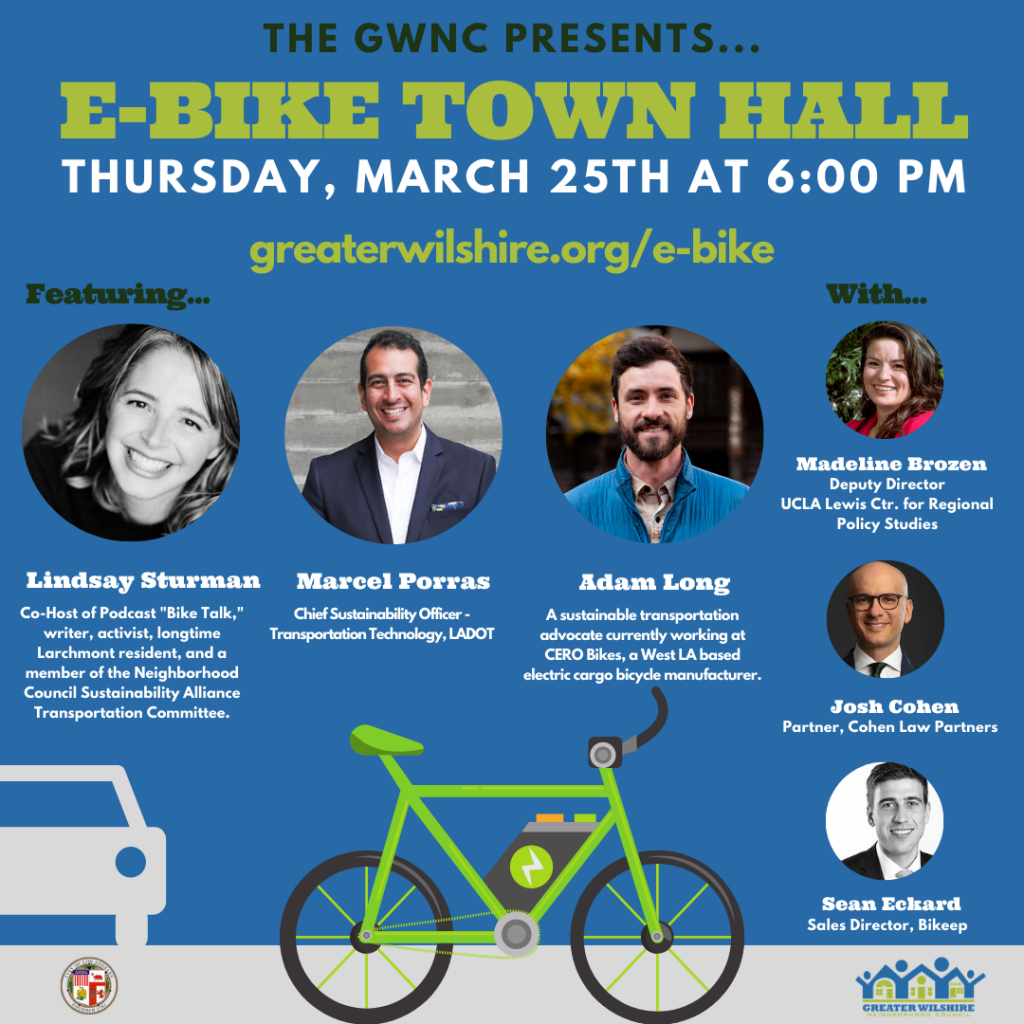 Local Experts take your Questions about Electric Bicycles and their Place in Urban Transportation
In 2020, annual US sales of electric bicycles more than doubled to half a million units. Much of the increase was from young city dwellers in search of transportation alternatives. Today, a diverse marketplace pits long-established bike makers Trek and Specialized against e-pioneers such as Rad Power. Even Honda, Porsche, and Harley are vying for a share of the fast-expanding market.
As Los Angeles struggles to address traffic, parking, housing, equity of opportunity, and global warming, have we arrived at the age of the e-bike?
Learn from local experts and aficionados in an informational panel discussion with live Q&A.
---
Watch the Recording on YouTube: https://youtu.be/lm6_0O4bKjc
---
Presenters and Panelists:

Lindsay Sturman is a writer and activist, and longtime Larchmont resident. She is the Co-Host of Podcast "Bike Talk" and is a member of the Neighborhood Council Sustainability Alliance's Transportation Committee.
Marcel Porras is Chief Sustainability Officer – Transportation Technology at the Los Angeles Department of Transportation, with more than ten years' experience in transportation, planning, and economic development. Prior to joining LADOT, he was the Associate Director of Transportation for Mayor Eric Garcetti.
Adam Long is with Operations at West LA-based manufacturer CERO Electric Cargo Bikes and is a sustainable transportation advocate. Adam lives in Los Angeles and is passionate about making cities better places for people to live and work by improving car-free transportation options.
Madeline Brozen is the Deputy Director for the Lewis Center for Regional Policy Studies. Her transportation research examines issues of mobility justice, focusing on the transportation and access needs of vulnerable and underserved groups of people.
Joshua Cohen is a trial attorney and partner at Cohen Law Partners, with a focus on representing injured cyclists and pedestrians. He is a board member of the Los Angeles County Bicycle Coalition and of the California Bicycle Coalition, by which he advocates for improved infrastructure, legislation and research to protect vulnerable road users. Cohen has been covered by Warren Olney, the Los Angeles Times, and SoCal Connected.
Sean Eckard is Sales Director at Bikeep, a global provider of smart commercial bike parking.
With moderation by Transportation Committee members, Jonah Bliss, Tucker Carney, and Conrad Starr.
---
Contact transportation@greaterwilshire.org with questions.